2020 Update
With the COVID19 virus hanging around we have not done much. Still hoping to show this year!
Our Baby Belle had a super litter that was sired by GCH Lionridge's Maximum Voltage. The puppies have gone to their new homes and all are being very good dogs!
We miss everyone and can't wait to be back in the show ring with our dogs and having a good time with friends!
Stay safe and stay healthy!!
GORDIE TO SHOW STRONG IN 2020!!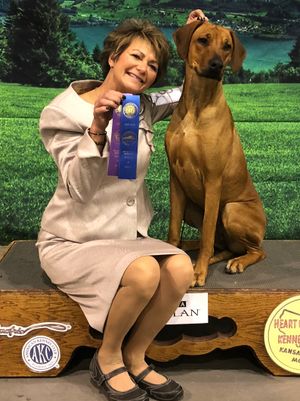 July 2019
We are proud to introduce two new champions to Krystal Rhodesian Ridgebacks.
At the Wichita shows, Krystal Oklahoma Belle In The Woods became a champion. She was shown by our friend and professional handler, Wendy Oelrich, at these shows!!  A big thanks to Diane & Rodney Young for bringing their girl to Ra to produce the spectacular Belle!
And in June at the Colorado Springs shows, I showed our girl Windy City's Magical Headmistress of Krystal to her championship. She won with a 4th major, receiving Best of Winners, and Best of Opposite Sex! A big thanks to Martha & Erin Prendergast of Presidio Ridgebacks and Michelle Haubrich of Windy City Ridgebacks for bringing their girl to Ra so we could have this pretty Maggie!
We are very proud of these girls. 
Stay tuned to our planned litter page to see when and who we will be breeding these girls to!
Congrats to our boy! 
BVIS BIF GCHG DC Uwanja's RaAtum, ROM, JC, SC, CGC, CGCU, RN, BN
On January 27, his son, Windy City Durmstrang's Bulgarian Bon Bon, finished his AKC championship. 
When "Viktor" finished his championship this gave Ra his 10th champion offspring and with that 10th he receives his Registry of Merit or ROM!
Yea for all his puppies!!
Happy Birthday to the 2012 Ra / Emerald litter! It's January 27 and they are 7 years old. It's hard to believe that much time has passed! Below is a picture of Miss Abbey Sperry enjoying her special day by the fire!
January 7, 2019
HAPPY BIRTHDAY TO EMERALD AKA
CH KRYSTAL KAJANI JOHARI OF LIONRIDGE
SHE TURNED 11 YEARS OLD TODAY! 
WELCOME 2019!!!
2019 has started our great for our ridgebacks.  Ray finished his beautiful girl Freda (a Ra daughter) in California the second week of January! Way to go Ray, Freda was owner handled to her Championship!